Ignition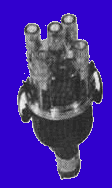 <![if !vml]><![endif]>What ever you may read, you cannot gain any extra power by changing your distributor, ignition leads, coil, or spark plugs. You can help the engine to run smoother and more efficiently, though. Your choice of distributors is limited to your stock unit, the Bosch 009 or 050 in either a standard configuration or with a Lumenition Optronic system or other electronic pack. These electronic units will help your engine run smoothly and with a more accurate spark, but remember to take a set of point with you on any long trips just in case they pack up, otherwise you're knackered, they cannot be fixed. If you change your carbs for a dual system you will need a purely centrifugal advance distributor. The 009 and 050 are of this type. The difference between the 009 and the 050 is the advance rate, the 050 gets to full advance faster rate than the 009, meaning it gets to its full advance at a lower engine speed, this is not a good idea for a lower powered engine (under 100BHP) as it will put more of a demand on the engine before it is really ready to give it.
Magnetos, they don't use a coil and are very expensive. They are mostly used by high revving drag race engines. A coil and 009 is a far, far better and cheaper option for a road car and one of the most common set ups.
Coils are available in many different types, but they are all basically the same, a coil of wire in an oil bath. The most common coil seen on the Beetle is the Bosch Blue, this is a good unit and will give you many happy hours, well, years. The choice is almost endless, they are made by more names than any one cares to mention, and nearly all of them will do what you want, but for the price, and ease of availability, there is no reason you shouldn't get a new Bosch Blue. Don't buy used coils, they rarely go wrong, but they aren't that expensive to take the chance.
You can change to silicon ignition leads in both 7mm and 8mm sizes and in many colours (the silicon part is the wrapping). The size of the lead isn't important to a road car, but colour obviously is (only joking). Your original leads will work well, but a new set can't hurt and they aren't expensive. You can get deals which include a 009, Bosch Blue coil and a set of silicon leads.