Cylinder heads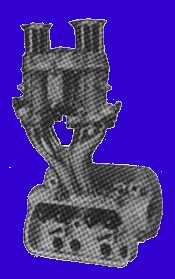 You can buy some lovely heads from the shops, but know now that they all need finishing off. No head can be built for your requirements and be a standard 'off the shelf' number. All of these heads will improve your engine as they are, but you should always consider a little head work at a recognised VW porting shop.
If you plan to stay under 100BHP then you can happily use your standard VW twin port heads without any work, less a good clean up. Don't bother with single port heads, change to a pair of twin ports.
<![if !vml]><![endif]>You can buy 040, 041, 042 and 044 heads, these are all based on the standard VW head, but still require work to perform well, especially the 041. The 040 has 40mm X 35.5mm valves, the 041 is similar but has 39 X 32 (not much better than standard, as a recommendation, don't use them), the 042 is a development of the 041, but with bigger valves, 40mm X 35.5mm. The 044 is the best of these heads and has more metal in the important areas near the valve seats and plug hole and therefore requires a long reach spark plug. The extra metal helps prevent cracking, a common problem on all these heads, including your standard heads. Of these heads I would recommend the 044 greatly over the other 04 heads and would seriously shun the 041.
My personal favourites for road use is the Eliminator which has plenty of metal in all the right places and with only a little port polishing they run very well, although they do need long reach spark plugs. Beyond these are those from all the top names, these come from Bugpack, Gene Berg, Pauter and Scat, but remember like any 'off the shelf' head, it will still require some work to make it perform at its best, so the more money you spend on a pair of heads there is still money you will need to spend.
Have a look through the catalogues and speak to the vendors, sum up the best value for money, but don't buy heads that are too big for what you want. Only buy an inlet valve size you can fill.
letís not go into heads any further as your requirements are something only you know, so go and speak to a head shop, let them know what you want and see what they say. If they know what they are doing they will recommend a head and then be able to machine it to your spec.